MYSTEXTM

LAUNDERABLE, LEAK-PROOF, BREATHABLE FABRIC
The research, which led to the MystexTM protective fabric, was initiated because there was a need for a type of reusable garment or product not presently available on the market.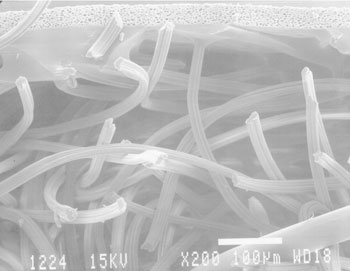 Cross section of the MYSTEXTM material showing absorption filaments
and microporous moisture vapour permeable membrane.

MystexTM is a launderable/reusable, leak-proof, breathable fabric. Specifically, it is a liquid impermeable fabric material, which permits the absorption and retention of minor volumes of liquids while the liquid is allowed to evaporate. With MystexTM, not only are fluids withdrawn from a source and retained within the absorptive layer, additionally, evaporation takes place through the vapour permeable layer.

This material consists of two juxtaposed layers. The inner layer has the characteristic of being liquid permeable so as to allow the body fluids to flow into it and be absorbed. The outer layer has the characteristic of being liquid impermeable but air or vapour permeable, so that the liquid absorbed in the inner layer does not strike through the outer layer. Because the body fluids can flow into the inner layer, the wearer does not experience a clammy feeling from the material next to the skin. The breathability of the outer layer also reduces wet feeling and will in fact allow some evaporation of liquid collected in the inner layer. Since the fluid is drawn away from the body, the possibility of skin irritation is reduced, thus the medical benefits are substantial.
In general, MystexTM is fabricated from an absorbent fabric, composed in part of antimicrobial fibers, to which is laminated or adhered a liquid imperviousness, but vapour permeable polyurethane film. The result is an integral fabric material from which articles can be manufactured which take advantage of the material's absorbent, launderable/reusable, leak-proof and breathable nature.
The general physical properties of one particular form of the composite fabric include a liquid absorption capacity of about 4 g per g of material, a liquid retention capacity under a 100g centrifugal force of about 0.33g per g of material, and a thickness in the range of about 0.5 to 0.6 mm. The material has also shown excellent resistance to staining from such fluids as artificial blood and urine.

ReleafTM undergarments integrate MystexTM's superior innovation with other types of textile materials and give you maximum protection and added comfort.

ReleafTM is virtually indistinguishable from other normal undergarments in comfort, wearability, durability and style. ReleafTM also provides you with anti-bacterial protection and odour control whilst remaining inconspicuous.

ReleafTM is capable of being laundered and substantially retains its properties after numerous cycles of use and washing.